Agafay Desert Tours, Excursions & Day Trips from Marrakech
Welcome to Moroccan Berbers Roaming, your gateway to authentic Berber experiences in Morocco. Immerse yourself in the rich cultural heritage of the Berber people and explore the stunning Agafay Desert tours, just a short distance from Marrakech. Our carefully crafted packages, tours, day trips, and excursions offer you a unique opportunity to discover the hidden gems of this enchanting region.
Morocco Tours from Marrakech to the Enchanting Agafay Desert
Get on an extraordinary adventure with our immersive Morocco tours from Marrakech to the captivating Agafay Desert. Prepare to be captivated as you journey through a tapestry of diverse landscapes, ancient traditions, and the warm hospitality of the Berber people.
Leaving the vibrant city of Marrakech behind, you'll be mesmerized by the ethereal beauty of Agafay Desert. This enchanting desert landscape, characterized by its vast golden sand dunes, rocky plateaus, and wild flora, provides a captivating alternative to the traditional Sahara experience. Agafay's unique charm lies in its proximity to Marrakech, allowing you to delve into the desert's allure without spending hours on the road.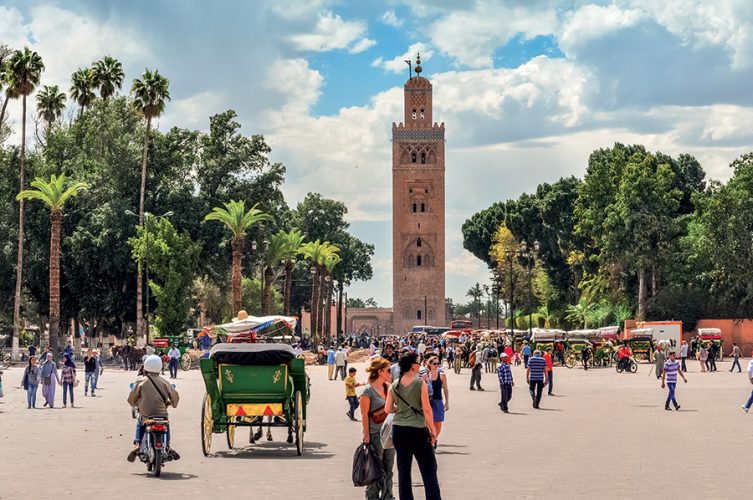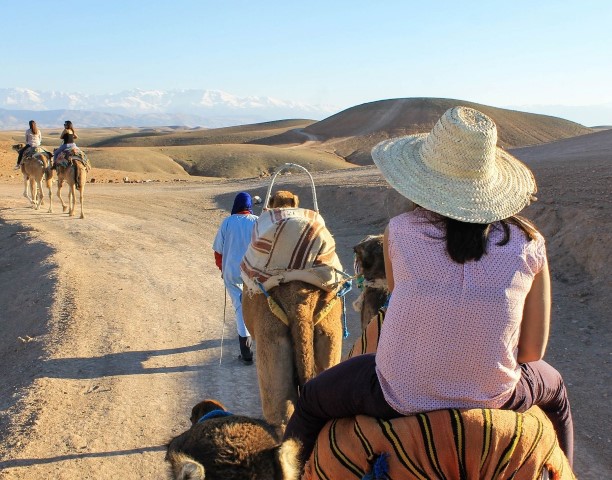 Welcome to Agafay, a captivating destination nestled near Marrakech, Morocco. Agafay boasts a unique allure, with its breathtaking landscapes and the mesmerizing Agafay Desert. Join us on a remarkable journey as we delve into the secrets of this enchanting region, uncovering its natural wonders, cultural heritage, and captivating experiences.
Why Visit Agafay and the Agafay Desert?
1.Proximity to Marrakech:
Agafay's close proximity to Marrakech makes it an easily accessible destination. Within a short drive, you can escape the city and immerse yourself in the wonders of this desert paradise, without having to endure long journeys.
2.Unique Desert Experience:
Agafay offers a distinctive desert experience, different from the vast dunes of the Sahara. The striking landscapes, the tranquility, and the untouched beauty of the Agafay Desert create a sense of serenity and make it an ideal choice for those seeking an alternative desert adventure.
Agafay is a hidden gem, away from the crowds and tourist hotspots. Here, you can discover unspoiled landscapes, authentic encounters, and a sense of peaceful seclusion that allows for a truly immersive and intimate experience.
Unforgettable Experiences in Agafay Desert
Here are some of the best places to visit in Agafay:
 Immerse yourself in the desert experience by staying at one of the desert camps in Agafay. These traditional camps offer a chance to spend a night under the stars, enjoy traditional Moroccan hospitality, indulge in delicious local cuisine, and engage in cultural activities.
Located near Agafay, Lalla Takerkoust Lake is a picturesque oasis surrounded by stunning views of the Atlas Mountains. Enjoy a peaceful boat ride on the lake, go for a swim, or simply relax and take in the tranquil atmosphere.
While not located directly in Agafay, Kasbah Tamadot is a luxurious retreat in the nearby Atlas Mountains. This stunning mountain retreat offers breathtaking views, elegant accommodations, and a chance to indulge in relaxation and wellness amidst nature.
Explore the traditional Berber villages scattered throughout Agafay. These villages provide a glimpse into the ancient Berber way of life, where you can interact with locals, learn about their customs and traditions, and witness their craftsmanship.
Horse riding, a timeless and exhilarating activity, offers a unique way to connect with nature and experience a sense of freedom. Whether you are a beginner or an experienced rider, embarking on a horse ride can be an unforgettable adventure. 
Quad Biking or Off-Roading:
For adventure enthusiasts, Agafay provides an ideal playground for quad biking or off-roading. Experience the thrill of navigating the rugged desert terrain, dunes, and rocky landscapes while enjoying the scenic beauty of the surroundings.
Lace up your hiking boots and embark on a trek through the scenic landscapes of Agafay. The desert region offers various hiking trails that take you through valleys, canyons, and mountainous terrain, providing breathtaking panoramic views.
Located a short distance from Marrakech, Agafay is an oasis of tranquility and natural beauty. This lesser-known gem offers a respite from the bustling city and immerses visitors in a world of serenity and charm. With its picturesque valleys, rugged hills, and lush greenery, Agafay provides a stunning backdrop for exploration and relaxation.
Agafay Desert: A Desert Wonderland 
One of the most captivating aspects of Agafay is the Agafay Desert. Often referred to as the "Desert of Marrakech," this unique desert landscape offers an alternative desert experience to the Sahara. The Agafay Desert is characterized by its golden sand dunes, rocky outcrops, and vast open spaces, creating a spellbinding environment that will leave you in awe.
Experiences in Agafay and Agafay Desert
1.Adventure Amidst the Dunes:
Embark on thrilling desert adventures in Agafay. Engage in exhilarating activities such as dune bashing, quad biking, or off-road jeep excursions, allowing you to explore the rugged terrain and witness the desert's untamed beauty up close.
Experience the timeless tradition of camel trekking in Agafay Desert. Mount a camel and traverse the undulating dunes as the sun casts its golden glow over the vast expanse. This serene journey allows you to connect with the tranquil nature of the desert and create lasting memories.
Immerse yourself in the rich Berber culture that thrives in Agafay. Engage with local communities, savor traditional mint tea, and partake in authentic Moroccan meals. Delve into the customs and traditions of the Berber people, gaining a deeper understanding of their way of life.
Stargazing and Desert Camping:
Spend a magical night under the starry desert sky in Agafay. Camping in the desert allows you to witness the celestial beauty as countless stars illuminate the night. Indulge in traditional Berber cuisine, enjoy storytelling around a campfire, and let the tranquility of the desert embrace you.
Join us on our captivating day trips from Marrakech to Agafay, where you'll witness the ethereal beauty of the desert, engage in thrilling camel rides and quad adventures, and explore the enchanting landscapes of the Atlas Mountains. Book your journey today and create cherished memories that will last a lifetime.
Agafay Excursion: Camel Ride and Quad Adventure at Sunset Time
Indulge in an extraordinary Agafay excursion that blends adventure and enchantment. Start your journey with a captivating camel ride through the golden dunes of Agafay Desert, embracing the tranquility and capturing breathtaking views. As the sun begins its descent, gear up for an exhilarating quad biking adventure, navigating the rugged terrains and experiencing the thrill of the desert at sunset. This combination of camel riding and quad adventures creates an unforgettable experience against the backdrop of a stunning desert sunset.
Immersive Cultural Experience in the Valley of Imlil and Asni
Our Agafay desert trip takes you on a remarkable exploration beyond the dunes. Venture into the picturesque Valley of Imlil and Asni, nestled in the awe-inspiring Atlas Mountains. Absorb the panoramic vistas of mountain peaks, verdant valleys, and cascading waterfalls as you delve into the heart of Berber culture. Engage with the local communities, visit traditional villages, and gain insights into their centuries-old traditions, while savoring the stunning natural beauty surrounding you.
Choose Your Perfect Day Trip from Marrakech to Agafay
Experience the best of Agafay Desert and its surrounding wonders with our exceptional day trips from Marrakech. Moroccan Berbers Roaming proudly presents a range of immersive adventures that showcase the mesmerizing beauty of Agafay, including camel rides and quad adventures at sunset, as well as captivating trips to the scenic Valley of Imlil and Asni in the majestic Atlas Mountains.
Customize Your Ideal Day Trip from Marrakech to Agafay
Ready to design your dream day trip to Agafay? Contact us today to share your preferences, and our experienced team will be delighted to provide more information and assist you in creating the perfect itinerary. Let us handle the details, while you focus on enjoying an unforgettable adventure in Agafay.
Unlock the freedom to create your ideal day trip from Marrakech to Agafay. Contact us now and let us turn your travel dreams into reality. Your personalized adventure awaits!